Stop The Pressure! – We don't believe it is the way to work with people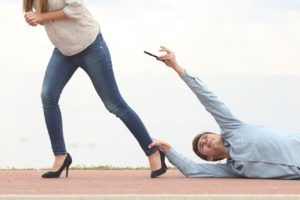 Ask yourself this question:
Why is it that you demonstrate maturity and wisdom in all areas of your life but when it comes to finances, you feel uneasy and don't even want to talk to people in the financial field who could help?   Studies show most Americans feel the same.
They don't want to feel pressured.
So where do you go to learn?  Typically you try to study yourself online or you  ask someone who helps them.  You may also be stuck seeing some financial professional who has worked with others in your family and feel an sense of obligation to stay. You have good intentions but you put off meeting — you feel obligated.  You know a majority of financial professionals you visit need to make a living and they will seldom take the time to help you find ease with money.  You need to know your options without pressure to jump into something you don't understand.   When it comes to money, developing personal financial power is needed before you can make good decisions that make money work for you vs you constantly feeling you work for it!
Do you feel pressure not knowing where to start?  Are you concerned you don't know who to trust or where to turn?  You are not alone. It is this pressure that stops most people from moving in a positive financial direction.
No one wants this pressure!
When was the last time you tried to address financial issues and decided to stop the process?  We have heard it way too often, things like:
"I am uncomfortable – this is over my head"
"I'm uncomfortable meeting with financial people – I feel guilty for taking their time"
"I would rather go to the dentist and get a tooth pulled"
"I'll probably feel pressured to buy something"
"I don't even know what questions to ask"
Of course, most financial professionals don't intentionally try to create these situations. Still, some people tell us they have felt obliged with some advisors about recommended products or services. Too many people worry about entering a relationship where they might feel an obligation to buy something they don't really understand. So, people stay stuck and do nothing.
Many Americans are jittery about their retirement prospects, but don't get the help they need
In November 2012, Money & Work Editor Richard Eisenberg provided statistics summarizing some of the research why people tend to shy away from getting professional help and have a problem working with financial advisers. Eisenberg states that the problem facing many people in their 40s, 50s and 60s is that they know they need financial advice, but somehow can't find it or can't bring themselves to hire a professional to get it. And even when they do, they fail to implement the guidance.
His takeaway from the Financial Advice Survey conducted for TIAA-CREF showed his surprise regarding this striking bottom line: 56 percent of respondents age 45 to 54 said, "Now more than ever I need a trusted place for financial advice" — and 45 percent of 55- to 64-year-olds felt the same way.
Why don't people use financial professionals? 
But despite acknowledging they need help, boomers generally are not consulting professionals. That's often because they say they don't know where to get advice or they fear they can't afford advisers' services. Roughly half of those 45 to 64 surveyed said it's not very easy for them to find relevant financial advice. About 40 percent said, "I think good financial advice will be more than I can afford."
Instead of hiring experts, midlifers are often seeking words of wisdom from friends and family — that's the case for about 40 percent of people 45 to 54. But those free tips could be extremely costly.
"Your friends and family may be in very different financial circumstances than you are," Dan Keady with TIAA-CREF told Eisenberg. "They also may not have a good grasp of your situation. And they may not have the expertise."
Eisenberg said he considered this the biggest survey's whopper: "Only 25 percent of respondents 45 to 54 who receive financial advice act on it. Without implementation, of course, all the smart financial advice in the world isn't worth a hill of beans".
Retirement Worries Are Sky High
The Center for Retirement Research at Boston College just published the latest results of its National Retirement Risk Index, sponsored by Prudential, which found that 44 percent of Americans aged 50 to 59 may not be able to maintain their standard of living in retirement. Worse: A full 55 percent of those aged 40 to 49 face the risk of a dip in their standard of living in retirement.
Building Personal Financial Power 
Wealth Strong® Life Solutions' founder, Evonne Ryan, believes that we first need to help bring down barriers and help people develop a critical understanding of money before anyone should be expected to make financial decisions about their future.  It is the reason we have such an educational focus and also provide people with concrete, understandable information about their current financial situation.
We use group settings to help people learn some of the basics — using two non-profit educational organizations we created to allow people to learn critical base money concepts in a non-threatening atmosphere.
We provide retirement benefit education and college funding workshops through two non-profit organizations:
FinER Center (the Financial Education Resource Center) and
FedEBC (Federal Employee Benefits Center)