It's Personal
… money is meant to
serve your real wealth
Contact us to receive information about the eleven areas of wealth and human strength.
Achieve Personal Financial Power: Transform your relationship with money from fear to confidence.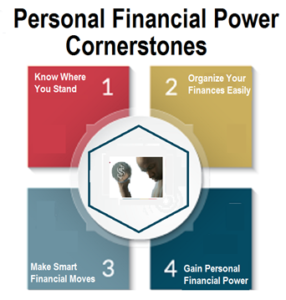 Most Americans fear running out of money, but finding financial peace can be broken down into four simple steps. Take a look at the four Personal Financial Power Cornerstones.
Join with other intelligent, caring people who are tired:  of working hard, of doing what the pundits say and still not getting ahead. They are tired of hearing:  "you should have done this" or "you need this number".
It doesn't start with a number. It starts with understanding money and making it work for you, not others. If you see wisdom in defining wealth differently and learning the real reason money (and talk about lack of money) plays a bigger role in your life than you want, join us. We're a community who feels the same way you do.
Explore the personal side of wealth. It's about more than money.  It's about you and how money serves what's important in your life.  Learn how to:
Learn more about the Eleven Areas of Wealth and Human Strength (EAWAHS) checklist. Hear about one family's experience