Stop The Frustration – work with a professional who focuses on YOU 
Many people don't know where to start – that's frustrating. We know how to help. It starts with building a solid foundation using Personal Financial Power cornerstones and using power move we teach you. Get beyond the frustration and achieve what you have not through the use of what we call a transformational financial process.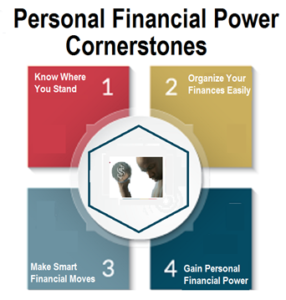 By building on Personal Financial Power cornerstones, you build a stable foundation to make financial tasks much simpler than in the past.
If you struggled in the past, you are not alone.
Struggling is a way of life for millions of Americans who don't know where to turn.
BUT THE STUGGLE CAN STOP — technology has changed everything.  It has made it possible to get things done and analyze information in ways that make sense.  The secret is out. 
We help you gain Personal Financial Power using tools that were not available years ago.  We then help you see what there is to see about your own personal situatio — all without judgement.  We come from a coach perspective because that is who we are and how we are trained.
We work to systematically help you understand where you stand and get the financial monkey off your back.  We spend time to educate you, opening up time and offering the support you need to succeed. Our professionals help you understand wealth while using a transformational process that grew out of the Certified Financial Coach® training program. We are dedicated to help you have a relationship wth money and wealth that serves you and brings you comfort. 
It's exciting to experience the AH-HA moments with our client as we work with them  We love seeing our client create a new sense of personal prosperity and well-being.