Sign Up Now
Find Your Game
Game Workshops
Live and Virtual
Sir Richard Branson
Plays Too
Click to go back to HOME PAGE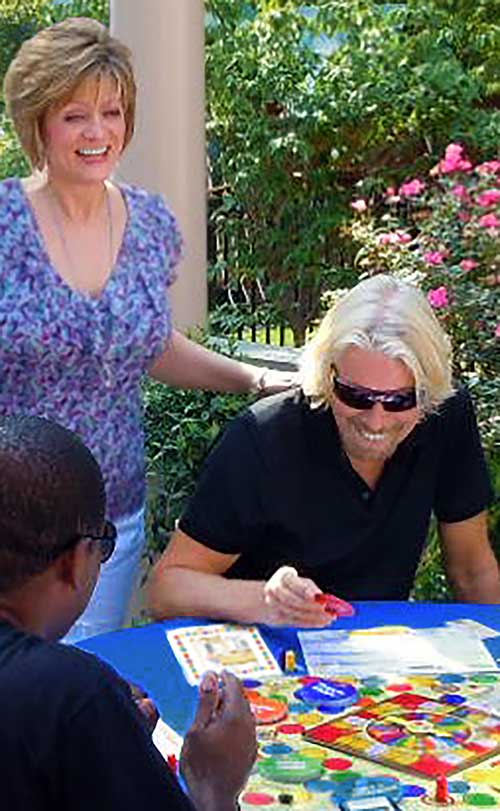 Sir Richard Branson plays IMPACT The Money Mastery Game while game inventor Cathy Cunningham makes sure he's not cheating.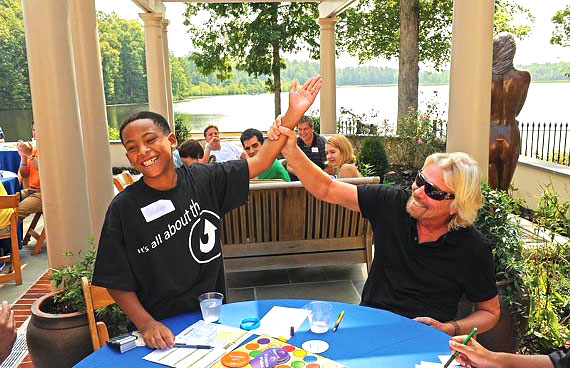 And the winner is…11-year-old Solomon Dortch!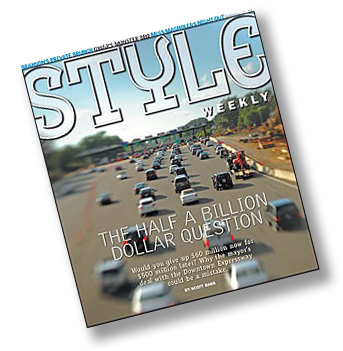 Original article published in
Style Weekly, Richmond, VA
written by Melissa St. Claire
photo by Scott Elmquist
Board Games With Branson:
Guess Who Won?
By Melissa Scott Sinclair, Style Weekly
Sir Richard Branson plays to win. Even when he doesn't know the game.
Sitting on the patio of Richmond entrepreneur Patrick Hull's lakeside house on Saturday morning, he stares bemusedly at a board that looks like a Twister-Candyland mash-up.
The hoopla of the previous night's gala at the Virginia Museum of Fine Arts is over. Today it's just Branson, a handful of his friends and supporters, and about 20 young Richmonders who represent the three nonprofits that will receive grants from Hull's Richmond Unite project.
Some had suggested that this private poolside brunch with Branson be a fundraising event for Richmond's elite, says Phil Conein, president of Techead and one of the directors of Richmond Unite. Hull nixed that idea, Conein says: "He wanted to do it for the kids."
Branson is as breezy, tan and leonine as you expect him to be. The famed billionaire shows little fatigue, despite spending the previous night grinning at adoring Richmonders.
"Are you very wise?" he inquires of Solomon Dortch, an 11-year-old who's sitting at his right elbow. Solomon looks nonplussed.
Cathy Cunningham, the inventor of Impact: The Money Mastery Game, begins shouting instructions. There's a colorful game board, six stacks of cards and a score sheet that resembles a 1040 income-tax form. The goal of the educational game is to amass "financial wisdom points," or "fwips," as Cunningham calls them.
"Everybody with me so far?" Cunningham asks.
"No!" Branson shouts. "I'm dyslexic," he explains.
The group starts anyway. Players scribble numbers on their score sheets while they buy imaginary stocks and amass thousands of imaginary dollars. Branson teases the other players, nudges the piece to the color he wants and flings an unwelcome card over his shoulder.
"He's cheating," says Monica Callahan, chief of staff for U-Turn Sports Performance Academy.
"You know, I'm not surprised," says Branson's friend, California philanthropist Kelly Smith.
It's all in good fun, though. By the end of the game, Branson is $14,429 in debt. (Callahan adds up his score for him.) "I think I'm the most bankrupt person in this whole day," he says.
But the billionaire also has 35 financial wisdom points, beating everyone handily. He refuses to be named the winner and hands the title to runner-up Solomon, who has 21 points. Solomon's father, Robert L. Dortch Jr., who is president and chief executive of U-Turn Sports, beams.
After one last round of photos, the beleaguered Branson slips away into the Hulls' safari-themed guest bedroom. He packs his bags (modest) and jets off to the Virgin Mobile FreeFest music festival in Columbia, Md., leaving the kids to eat frozen fruit pops and reminisce.
"Pretty cool," Solomon says.
Reprinted from Style Weekly, Richmond, VA. Edited for updates.